TOURS AND ACTIVITIES
All guests staying at Sebatana can enjoy an extensive list of services ranging from traditional game drives and big five safaris to cultural and historic tours. We run a 7 night Friday to Friday program with one of the most diverse programs found on the market. In the following you can read the complete program with all tours and activities available on selected days.
RESPONSIBLE TOURISM
Sebatana private reserve is an active player in the local community and supports various projects to ensure fair and sustainable tourism in the area which we believe is of huge benefit to both the community and staff as well as guests visiting.
Luxurious Safari at Sebatana Rhino Lodge*****
Welcome to our 7-night luxurious safari package in South Africa, at the five-stared Sebatana Rhino Lodge. Join us and visit this striking country, where we with a stay at Sebatana Rhino Lodge will make sure you have a magnificent and unique wildlife experience, while simultaneously getting a profound knowledge of the country's diverse culture and astounding history.
The package is a 7-night package only with different tours and activities offered each day. Tours and activities described in the program can be purchased in advance or during the stay at the lodge. Please refer to the price list for more information.
The day to day program including tour and activity options:
Day 1 - Arrival and transfer to Sebatana Rhino Lodge*****
Following Arrival we will set course through the magnificent landscape to the lodge.
Ensuing lunch, there will be an opportunity to get settled in the pristine surroundings, take a dip in the pool and get acquainted with the lodge and personnel.
In the early evening, our hosts at Sebatana Rhino Lodge will serve a refreshing cocktail and afterwards there will be a briefing regarding your stay at Matswani. You will be instructed in how to respectfully live in the bush and which precautions to be aware of.
Following the manager's reception and briefing dinner will be served in the restaurant.
Day 2 – Game Drive with observation deck, wildlife talk and and museum visit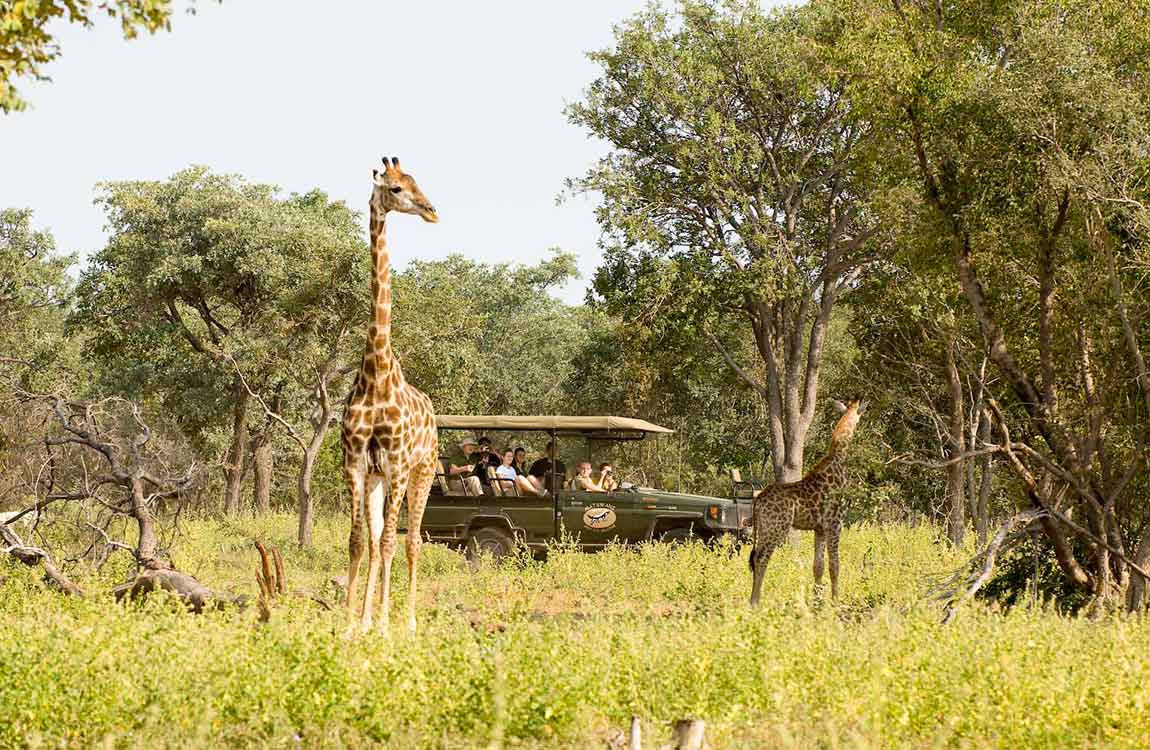 After breakfast our guides will pick us up in one of the Land Cruisers and take us to Christina's Wallow, or rather some of the way there. To have the least amount of impact on the wildlife, we will make some of our way there by foot. Christina's Wallow is a hide, where you will have a direct view of a watering hole which is used by many different species of animals, such as mere cats, giraffes, impalas, wildebeest, etc. In other words, it is important to have your camera ready as you are almost guaranteed, beautiful viewings of African wildlife.
After about 45 minutes of observation from the hide, we leave Christina's Wallow and continue on a safari in the Land Cruiser before returning to the lodge where the chefs will be serving lunch.
Ensuing lunch, we will go on another drive in the open Land Cruisers to the settings in the middle of the bush where the guides will give a wildlife talk in regards to which species of animals, birds and plants, we will find throughout the upcoming week. The guide will also explain the area's history and what the scenery is like at Sebatana Private Reserve. After the wildlife talk we will set course back to the lodge where we will visit the museum and wine cellar.
Before dinner our bar manager invite guests for a happy hour in the bar where there will also be a free wine tasting of the wine recommended for the evenings dinner.
Day 3 – Shingwedzi wildlife centre and night safari
Today we visit one of the territory's wildlife centres, where you will have the opportunity to see some of the many unique and local predator species.
Many of these wildlife centres have been established as rehabilitation- and protection centres, where they actively work to educate the local community and through that protect the endangered predators. Predators in particular are feared and hated by many, as they can do irreparable damage to the locals' livestock and income. That is why these centres try to create a tolerable existence for the predators that have been caught, tortured or in any other way abused.
Even though these predators are not in their natural environment, our visit creates the opportunity to experience them up close and through the guide's expertise gain some knowledge about the individual animals. On our way to and from the wildlife centre, we will drive through unique and magnificent landscapes.
Immediately after arrival back at the lodge there will be another opportunity to go on a game drive in the Sebatana Private reserve or relax and get ready for the night safari.
Night Safari
At dusk, when the sun sets over the African bush, we depart Matswani Safari Lodge.
It is a spectacular experience to watch how the bush changes and how a completely different animal kingdom emerges. Night Safari takes place in open Land Cruisers, where we use powerful spotlights. We must use all our senses, in particular our eyes and ears, as suddenly the spotlight will detect a pair of eyes reflected in the light. This is an intense experience and something you should not miss out on.
Our guide will, throughout the safari, whisper different information about the wildlife we encounter here in the dead of night. On a night safari, we may be lucky enough to spot animals which we do not usually see during the day. Animals such as leopard, caracal, bush baby, porcupine, antbear, etc. The quietude is a characteristic of the African night, it may seem spooky and suddenly you may hear something that sounds as though the bush is 'crying'. Such sensory perceptions are a strong characteristic of a night safari.
En route we will stop at "Flintstone Cave", where the light from the fireplace will greet us. The chef has prepared a lovely three course dinner, and beautiful tables have been set for you. To sit in the middle of all that darkness with the fireplace illuminating your surroundings, enjoy an exquisite dinner and a glass of red wine is truly a world-class experience. When everyone has finished, we will continue our safari through the bush. The phenomenal experience should not be omitted, as it completes your safari adventure.
Day 4 – School visit , game drive and tribal evening
Following an English breakfast, we will visit a local school sponsored by Sebatana Rhino Lodge.
Many poor farmworkers are still illiterate, as the apartheid era ensured that many indigenous black children were not allowed to go to school.
Parents who do not have an education often find it difficult to understand why their children must learn something, they themselves never did. Since the abolishment of apartheid the new government, which arose in 1994, quickly realised that education was the only way to success. That is why today's government is focused intently on schooling and ensuring that every child gets an education.
Unfortunately, the schools in the rural districts lag behind and do not receive the required financial or academic support they need to properly educate the children. The children in these rural districts cannot just leave and go to another school, as the distances are great. Generally, there is no public transportation and as most people do not own cars, the result usually is that the children do not attend school.
To make sure that it is more desirable to send the children to school, Matswani has decided to support the local schools. This has led to significant improvements for both teachers and pupils.
When Matswani first started its collaboration with the local schools, it was normal to only have a few students and the schools lacked the most basic necessities such as books, toilets, etc. The number of students have since then increased significantly and even though the standards in no way can be compared
with schools in Europe, the students have obtained substantial better conditions such as better facilities, teaching tools, as well as competent and committed teachers.
Over the years, our guests have visited one of the local schools every week and each time it has made an everlasting impression on everyone. Do not miss out on this life-affirming experience, which without a doubt will change the way you view your own schools at home.
Mid-afternoon we will go on another amazing safari in the reserve. Most guests cannot get enough of the diverse wildlife at the Sebatana private reserve and here we get another chance to try and find and observe our favourite animals. Our guides will make sure to ensure that we can cross as many animals of our list as possible during the drive.
Tribal Evening
In the evening we are invited to a private dinner at our chef's, which gives us the opportunity to experience how the indigenous black population once lived, and sometimes still do. This is an extraordinary chance to ensure that you gain some historical insight into African culture and lifestyle, in addition to a contemporary awareness.
The local culture and lifestyle are in many ways incredibly exciting, and we will be able to taste their unique food and beverages. We are also introduced to some of their customs and traditions. In many ways we should envy their way of life, they may not be rich in assets, but they are wealthy in human experiences and especially in respect for one another and their values.
The indigenous black population often expresses themselves through song and dance. Tonight we have arranged for children and young adults to come and entertain with dances and old traditions they proudly retain despite the colonial attempt to "change" them. The dancers who come to entertain us, are all part of a heritage foundation, which works to preserve the local traditions and culture.
Day 5 - Pilanesberg National Park
Pilanesberg National Park, the third largest in South Africa, is a three hour drive from Matswani Safari Lodge. A drive through picturesque mountain formations, developed through millenniums and which stretches through 600km's/373mi's of South African landscape. Pilanesberg covers an area of approx. 55,000 hectares/ 135,908 acres and was created through the gradual increase of merged plots.
Upon arrival in the park, we ascend the open safari vehicles and drive through the massive area while our professional guide shares their knowledge of the various wildlife.
All safari vehicles driving in the park are in constant radio contact, so we will immediately know if anyone else for example spots elephants and be able to make our way there shortly. This ensures the substantial likelihood that you will have a marvellous wildlife experience.
Pilanesberg National Park is a beautiful area. Situated in a volcanic landscape, its impressive mountain formations and open plains is home to a wide range of antelopes and one of the world's largest populations of the endangered white rhino. Simultaneously, Pilanesberg offers "the Big Five" – lion, elephant, buffalo, rhinoceros and leopard – in addition to giraffes, hippopotami, cheetahs, 300 species of birds and so much more.
Before tonights dinner our guides will invites guests for a cocktail in the Rhino bar and there will again be free wine tasting of the wine recommended for the evenings dinner.
Day 6 – Game drive, Champagne bush brunch and walking trail.
Immediately following sunrise, we leave the lodge and begin our safari.
Our best chance at spotting wildlife up close is during the early morning hours. The antelopes move through large areas to find the best browsing, but also to find the best protection against leopards, hyenas, caracals and other predators. We drive around in an open Land Cruiser, which ensures the best possible view and photo opportunities.
Later in the morning, when hunger arises, we end our safari at Kudu Rock. Here we will serve a wonderful, traditional and lavish African Champagne Brunch, while you enjoy the magnificent view of the African bush.
Afterwards we return to the lodge, where you will have the opportunity to relax and reflect on the many impressions garnered throughout the morning.
Mid-afternoon we commence our walking trail. En route our experienced guide will relate the characteristics of the Waterberg Mountains, in regards to the impressive fauna south of the equator and the distinctive surrounding nature. Simultaneously, you will gain some insight into the animal breeding- and feeding areas, an insight which will be especially exciting when learning more about antelope behaviour.
Before dinner our bar manager will once again be ready for a happy hour in the bar and the free wine tasting of the wine recommended for the evenings dinner.
Day 7 - Half day big five safari and Sunset Rock
For those clients that wants the ultimate safari experience we also offer an optional half day big 5 safari to one of the best big 5 reserves in the area allowing good opportunity to find Africa's most attractive species in their natural element. A fantastic experience that is continuously amongst our most popular tours at Sebatana.
Mid-afternoon we will go on another amazing safari which will end at Sunset Rock. A place and an experience, former guests have said to be one of the absolute highlights of the entire tour. This is where we will enjoy a glass of bubbly, chilled champagne, while the sun slowly sets over the Waterberg Mountains in a cascade of red and orange colours.
Right here in the middle of the grandiose African landscape, at a time of unending beauty, you will feel as if no time is passing – and wish it never would. This is truly the epitome of overwhelming happiness, the African way.
Following sunset, we return to the lodge where our accomplished chefs are ready with yet another feast.
Day 8 - Apartheid Museum, Johannesburg and Soweto
Following an English breakfast, and perhaps a final dip in the dipping pool, it is time for one of the hardest moments of our tour; a final farewell to Sebatana.
While the staff waves goodbye (and hopefully "see you again sometime") we head for Johannesburg, where our first stop will be an emotional one. We visit the Apartheid Museum which was inaugurated, as the first of its kind, in 2001. The museum gives us an emotional insight into how the indigenous black South African population, from 1948 until the final abolition of apartheid in 1994, lived an unimaginable existence.
During the afternoon we leave the museum, but not the apartheid history, behind. Our next stop is South Western Townships – or as it is better known, Soweto. Placed only 15km/9mi from the Johannesburg city centre this, at one time famous and infamous, neighbourhood covers an acreage of just 63km2/24sq.mi. It is estimated that approx. 4 million people reside in this small area. Originally, Soweto was only supposed to be a temporary residence for the mineworkers. However in 1923, as part of the notorious "Urban Areas Act", it was converted into a township/ghetto for Johannesburg's black population.
Throughout the years, and especially during the apartheid era, Soweto has been at the centre of numerous riots and violent historical events. Within the last 10 years, the neighbourhood has undergone a significant change where i.a. a large amount of the sheet metal shacks has been replaced with proper housing. Today, Soweto has much better areas with schools, a university, sport clubs and hospitals. Archbishop Desmond Tutu and Winnie Mandela still reside in Soweto.
During the trip we also make a stop at the famous Hector Pietersen Memorial, where you usually will have the opportunity the buy some souvenirs at the local crafts market. Rounding off our visit to Soweto, we will go through the more fashionable part of the township where we will have an early dinner at a small local restaurant. This is our final joint meal, and you will be able to enjoy the local atmosphere and try some of the township's own specialities. We will then continue on to Johannesburg or Jo'burg as the locals call it. While driving through the city, you cannot help but feel the pulse of what characterises South Africa's largest metropolis. An economic and industrial focal point, where little over 120 years ago there was nothing but untouched savannah. Today it is the predominant economic centre of South Africa.
The history of Johannesburg began when the Australian prospector George Harrison found gold in Witwatersrand in 1886. The news spread as wildfire and within a short period of time, a long list of mining companies appeared in the area and established no less than 14 goldmines. Within a year, the gold mining industry was so comprehensive that a need for a stock exchange emerged. That was the reason why businessman Benjamin Minors Woollan initiated the opening of the Johannesburg Stock Exchange, which is currently the world's 17th largest. Only two of the original gold mines still exist on the outskirts of Johannesburg, however they are still active to this day. Early in the evening we arrive at O.R. Thambo International Airport. While you await your return flight, you have time to look back at nine unforgettable days, filled with inciting impressions and lavish experiences. This is a tour which will remain pleasantly in your thoughts for a long, long time to come, perhaps forever.